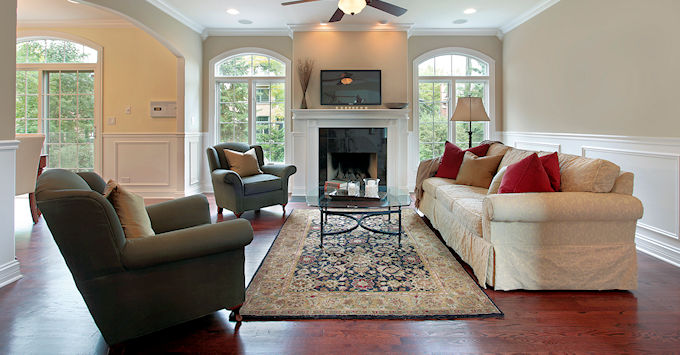 Home Insurance and Homeowners Insurance in La Crosse, WI
Home is where the heart is – as well as everything else you own. Whether you are buying your first place or finally building your dream home, you'll need insurance to help protect the investment you've made in your property, your belongings, and your family's future. At Sandmire Insurance, we'll help you find competitive rates on quality home insurance that minimizes your financial exposure to risk. We primarily offer homeowners insurance to our customers in La Crosse, WI, Onalaska, Holmen, West Salem, and more.
Covered Perils
The types of perils and hazards your insurance covers are contingent upon the type of homeowners policy you select. Coverage may extend to all loss events except those which are explicitly excluded by your policy, or it may only be limited to the named perils that are specified in your policy. Typically, these include damages caused by a wide range of events, including:
Fire
Smoke
Theft
Vandalism
Wind
Hail
And more
Keep in mind that a standard homeowners insurance policy excludes coverage for certain events, such as flooding. Talk with your agent about purchasing a stand-alone flood insurance policy or enhancing your home insurance coverage to include damages caused by other events, such as sewer and water backup.
Types of Home Insurance Coverage
You may notice there are several different sections in your homeowners insurance policy. These may include:
Home Structure and Other Structures
The first two sections in your home insurance policy may outline the available coverage for damages to your home's structure and the other structures on your property, such as a fence or detached garage. To minimize your risk of loss, talk to your agent about replacement cost coverage, which compensates you for the full cost of repairing or rebuilding your home with similar finishes and materials.
Claims for structural damage or loss are typically subject to a deductible, which you can choose when purchasing your policy. A deductible could be as low as a few hundred dollars, although many homeowners opt for higher deductibles, as these generally help lower the cost of premiums.
Personal Property
This section of your home insurance covers damages or loss of your personal belongings due to a covered event. This includes items in your house, as well as losses away from home, such as theft of personal items from your car. Like structural damage claims, any claims against your personal property coverage are subject to a deductible.
In the event of a fire, for example, your personal property coverage would reimburse you for the loss of your furniture, sporting goods, kitchenware, apparel, décor, and more. If you have standard coverage, your payment will likely be valued on the depreciated value of your item (actual cash value). However, we recommend replacement cost coverage to all clients, which will instead compensate you for the full cost of replacing your damaged items with new ones.
Insurance companies often set personal property coverage limits to 50 percent of the total structural coverage limit by default. However, a thorough inventory of your belongings can help you determine if you may need additional coverage beyond that which comes standard with your policy.
Liability
If your dog bites a neighbor or a guest trips over a water hose in your yard, liability insurance helps cover any financial responsibility you may have due to third-party injuries or property damages. This includes the cost of legal fees if you are sued, as well as any judgments against you for victim medical bills and other losses (up to the limits of your policy). When choosing your liability limits, consider that you could be personally responsible for paying any damages that remain in excess of your coverage out of your own pocket.
Medical Payments
The medical payments coverage in your homeowners insurance policy is no-fault protection for third-party injuries that occur on your property. It typically provides a few thousand dollars of compensation for necessary medical bills. Though this does not remove any potential liability you may have as the property owner; this goodwill gesture could be enough to avoid a lawsuit.
Temporary Living Expenses
Imagine having to find somewhere else to live at a moment's notice. How would you afford rent or lodging fees? Where would you prepare your family's meals? How much would it cost you to keep up with laundering fees? With temporary displacement coverage, you are covered for excess living expenses when your home is uninhabitable due to a covered event.
Making Wisconsin Home Insurance Affordable
At Sandmire Insurance, we know your home is one of your most valuable assets. That is why we prioritize the quality and inclusivity of your coverage above all else. However, that does not mean your home insurance cannot also be affordable. As an independent agency, we shop and compare coverage from multiple carriers to find the coverage that is right for you. We can also help you secure any discount you may qualify for, such as:
Home security discounts
Home and auto bundling discounts
Claims-free discounts
New home/roof discounts
And more
Renters Insurance in La Crosse, WI
Renting means not having to worry about the structure of your home – only the things inside it. That means you still need insurance, but not the same coverage as a homeowner. At Sandmire Insurance, we offer affordable renters insurance coverage that protects the things you own against covered damages and also protects you and your household against certain types of financial liabilities when you are responsible for a third-party's bodily injuries or property damages.
Condo Insurance
Condo living affords a low-maintenance lifestyle with many of the perks of owning your own place. This blended existence creates some unique insurance needs. At Sandmire Insurance, we can help you find private condo insurance that picks up where your condo association's master policy leaves off. From the interior finishes of your unit and your belongings to your liability, displacement costs, and potential loss assessments, we can help you build and compare coverage that fits your needs and budget.
To find out more about home, renters, or condo insurance or to request your free quotes, contact our office today. 
Sandmire Insurance has recently been acquired by Preferred Insurance Agency of La Crosse, to get a home insurance quote visit the Preferred Insurance Agency home insurance page.