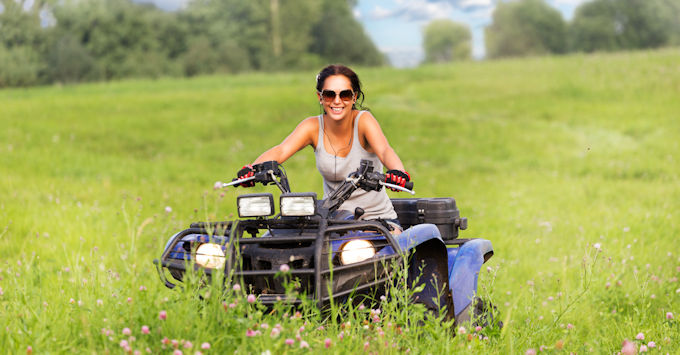 At Sandmire Insurance, we have recreational insurance to fit your on-the-go lifestyle. Whether you spend your days zipping through backwoods trails on your ATV, out on the river with your boat, cruising the beautiful backroads of Coulee Region on your motorcycle, or taking new adventures in your RV. We know the unique risks you take as the owner of a recreational vehicle. As an independent agency, we are committed to helping you both save money and minimize your financial vulnerability by shopping and comparing coverage from several different Wisconsin insurers. Our goal is to keep your premiums low, your coverage high, and your satisfaction off the charts.
Insuring Your Toys
Nothing makes you feel like one with the land quite like the way a 4-wheeler hugs the trails while you ride. Whether you use your ATV to go mudding with friends, or simply doing work around your farm, be sure to protect yourself with ATV insurance that helps cover you, your vehicle, your passengers, and your finances against potential loss.
While some of you might enjoy the woods and ATV trails, there are many of you that would rather spend your spare time on the water. We are blessed to have the Mississippi right out our backdoor, with endless shorelines to discover. While a small fishing boat may be covered on your homeowners policy, most boats need their own insurance.
The same can be said about a motorcycle. The coulee region to have miles of country roads to discover new places to see.
Most ATV, Boat, and Motorcycle insurance policies contain multiple coverage types, some of which include:
Collision and Comprehensive
These two coverages help protect your ATV against physical damages, whether you roll your vehicle, collide with a tree, or even if someone steals it from your property. Depending on the extent of the damages, your insurance may cover the cost of repairs or otherwise compensate you for a total loss, minus the cost of your deductible.
Property Damage and Bodily Injury Liability
ATVs can cause major damage to private property, whether you hit someone's car, drive through a fence line, or hit another ATV. You could be held liable for the damages and even sued by the victim. Property damage liability insurance helps cover your financial liability when you cause third-party damage with your ATV. Likewise, bodily injury liability insurance helps cover the cost of third-party injuries you are responsible for while riding your ATV. This coverage can help cover your legal fees and any judgments or settlements against you for victim medical bills and other related damages.
Uninsured/Underinsured Motorist
If you are riding along the side of a road and a motorist veers off and hits your ATV, the at-fault driver is likely responsible for your injuries and losses. If the driver is uninsured or underinsured, however, you may need to look to either your own uninsured motorist or underinsured motorist coverage for compensation of your damages.
Medical Payments
Injuries are common among ATV riders. If you or a passenger is hurt on your 4-wheeler, medical payments coverage can help pay for necessary medical expenses following the accident, whether you are at-fault or not.
Special Equipment
If you've invested in after-market parts and specialty equipment for your ATV, make sure they are covered against damages. Talk to an agent here at Sandmire Insurance to find out what types of equipment are covered under your ATV policy and whether you might need additional protection for your upgrades and enhancements.
RV and Camper Trailer Insurance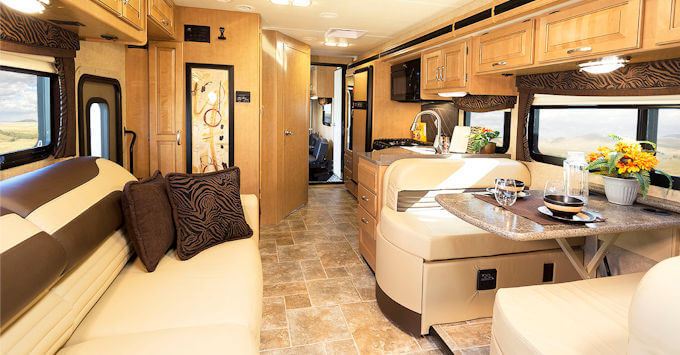 If you enjoy exploring and taking adventures to new places, the RV or camper-trailer life may be for you. These vehicles are unique in that they function as both a vehicle and your home away from home. That is why the insurance coverage needs for RVs and campers are so unique – there's just no other vehicle like them.
Like ATVs, insurance for RVs and campers often come with:
Collision coverage
Comprehensive coverage
Bodily injury liability
Property damage liability
Uninsured/Underinsured Motorist Coverage
Medical Payments Coverage
In addition, it may also include certain unique coverages, including:
Vacation Liability
This type of coverage provides liability protection when you park your RV and use it as your temporary residence. It helps compensate victims for their losses if they are injured while visiting your RV or camper. Without it, you could be responsible for paying court costs, legal fees, settlements, and judgments out of your own pocket if you are sued.
RV Awning
This coverage helps pay for damages to your RV or camper's awning, which can cost thousands of dollars to replace.
Personal Belongings
When you take your RV or camper on the road, you probably bring many of your belongings with you. From your clothes and shoes to your electronics, board games, and even your toiletries, personal belongings coverage allows you to file covered claims against your RV insurance instead of your homeowners policy.
Trip Interruption
If you wreck your RV or breakdown halfway to your destination, it could wreak havoc on your plans. How will you get home? Where will you stay? How will you feed your family without your RV's kitchen to cook in? With trip interruption coverage, your insurance can help cover the cost of emergency living expenses and help you get safely home again.
Coverage and Discounts
When purchasing your ATV, RV, or camper-trailer insurance, you will select which types and how much coverage are right for your policy. At Sandmire Insurance, we can help you assess your risks and coverage needs based on a wide range of factors, including how much you stand to lose after an accident or lawsuit. We offer policies custom-tailored to fit your needs, with considerations for:
Where you ride or travel
How often you use your vehicle
The type, age, and value of your vehicle
Your current income and assets
Your future income
And more
Once we know how much coverage you need, we can help you shop and compare policies from carriers until you find the coverage you need at the right price.
ATV, Motorcycle, Watercraft, and RV Insurance Discounts
Many of our customers are eligible for discounts on their coverage that help reduce policy premiums. Although these are variable from company to company, they may include savings for:
Remaining claims-free
Having a clean driving record
Taking an approved ATV or RV safety education course
Purchasing multiple lines of coverage from the same insurer
Paying for your insurance premiums in full
And more
To find out more about Wisconsin ATV, Boat, Motorcycle, and RV insurance, contact Sandmire Insurance to request your free quote today.